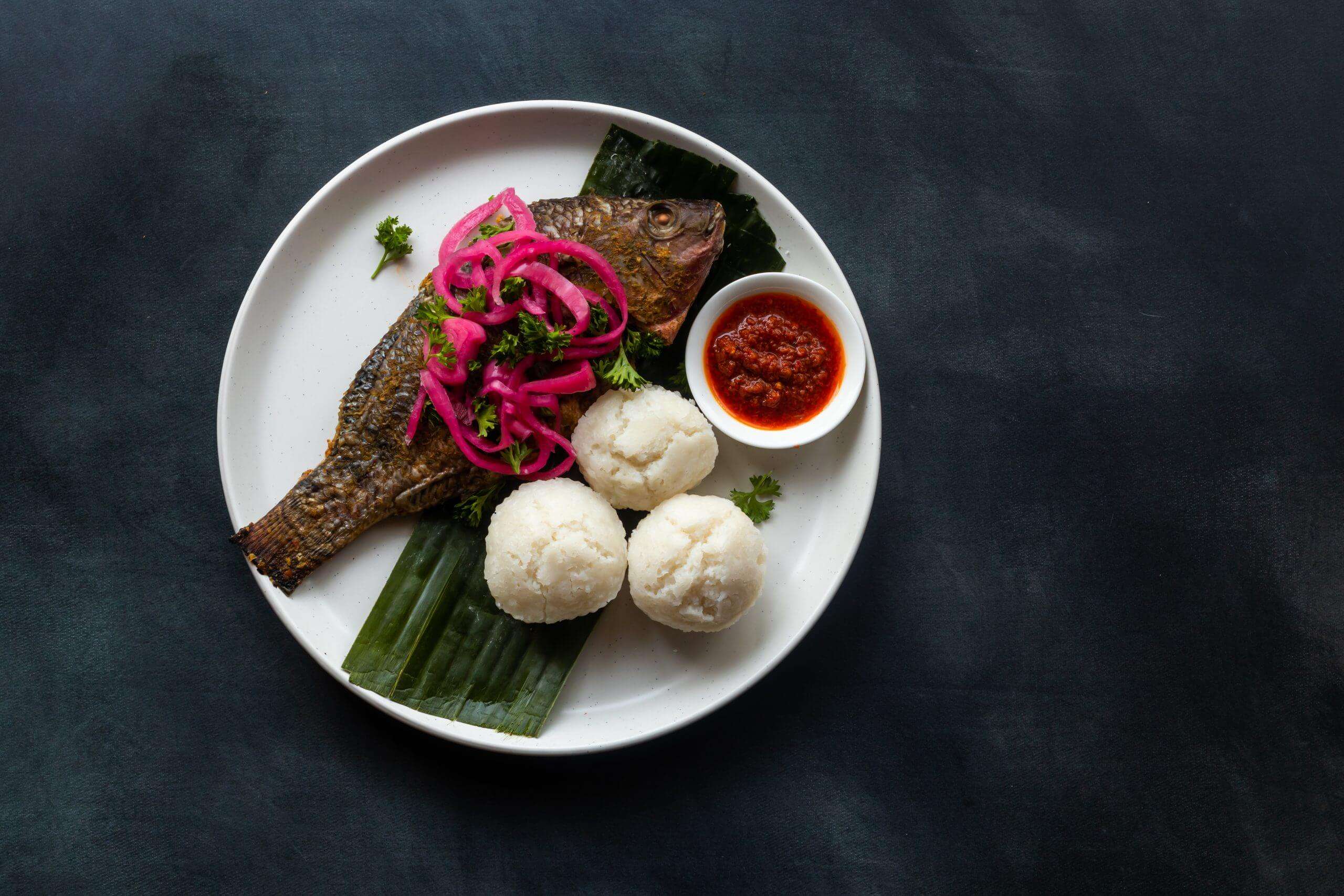 Prep:
30
mins
Cook:
20
mins
Total:
50
mins
Ingredients
Tilapia fish

1-2

lemons

Salt and freshly ground black pepper

2

teaspoon

whole white pepper

2

teaspoon

whole black pepper

7-10

garlic cloves

½

inch

ginger

1

teaspoon

paprika

2

tablespoon

chicken bouillon powder or cubes

1

piece

1/2 inch fresh ginger, peeled and thinly sliced

1/2

cup

coarsely chopped basil

parsley

¼

cup

onions or ¼ medium onion
Instructions
-Make three-four diagonal cuts in each side of the fish, all the way right through the bone. Season fish with salt, pepper, and squeeze some lemon over it. Set aside
-Using a coffee grinder – grind all the dry spices – anise seeds, African nutmeg, white pepper, and black pepper. Add to a bowl.
-Chop parsley, onion, basil, garlic, ginger, bouillon cubes and place in a food processor or blender. Blend/ pulse adding oil/water as needed until the ingredients are finely pureed. Add to the bowl of dry spices. Add paprika and more oil if need be. Mix thoroughly until all the spices come together
-Pour the marinade over the fish, and gently flip them back and forth until coated inside and out. Let it marinate in the fridge for up to 24hours
-Preheat to high heat.
– When you are ready to grill, Wipe down the grill basket with an oil towel and immediately lay the fish down in the fish casket. Let them grill for about 1-2 minutes on each side
-Reduce to medium-high, then cover the grill if you have a gas grill
-If you are using a small bbq grill, leave the fish on the open grill or hot charcoal.
-Baste with fish spice
-Let the fish cook for a total of 4-5 minutes on each side, you may have to add a minute on two depending on the thickness of your fish until cooked – when fish is white and the juices must run clear.
-Check for doneness by making sure the meat closest to the bone is fully cooked – slash with a knife to check.
-Serve with the allSpices red habanero sauce and ablo.